The team at Holmes Veterinary Hospital is ready to meet you are your pets. Our staff has many years of experience and are skilled professionals in the veterinary industry. Get to know us and say "Hi" next time you visit our hospital!
Veterinarians
---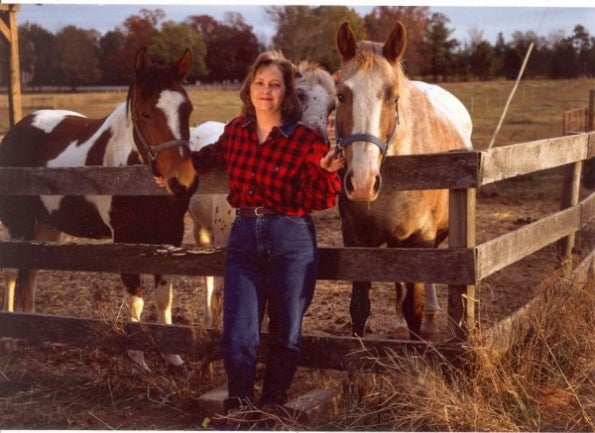 Jacquelyn Holmes Burns, DVM
Dr. Jackie H. Burns is a native of Laurens.
She attended Laurens District High School and graduated cum laude with a B.S. in Biology from Wofford College in Spartanburg, South Carolina. She received her D.V.M. from the University of Georgia College of Veterinary Medicine in Athens, Georgia, where she was inducted into Phi Zeta, the Honor Society of Veterinary Medicine.
Dr. Burns is deeply committed to excellence in companion animal practice and is constantly studying and learning new approaches to patient care. She aggressively pursues continuing education and completes roughly three times the state's yearly requirement for continuing education credits. She is a member of the AVMA, the SCAV and VIN.
Dr. Burns and her husband Tommy have a son and live on a small farm. They have two dogs, including Dr. Burns' beloved Robert Earl, a Jack Russell-Beagle mix, an ever-changing number of Robert Earl's cat friends (great sports, all), Fiddler, the luckiest Appaloosa gelding in the world and his donkey pal Macy.
Dr. Burns is an audiophile and is passionate about all kinds of contemporary music, especially classic country and classic rock, and she enjoys going to concerts She likes reading novels, short fiction and eloquent outdoorsy essays. She enjoys all things outdoors, especially birding, hunting, fishing and bicycling. She also collects mammalian skulls and license plates.
Dr. Burns is a published author and writes or has written newspaper columns, essays, veterinary industry articles, outdoors articles, novels and nonfiction books. To view her blog, River of Muscadines: Wry Wit and Wisdom with a Southern Accent, click here.
Joy Culbertson, DVM
Dr. Joy Culbertson is a native of Laurens. She graduated from Clemson University and earned her DVM from the University of Georgia College of Veterinary Medicine. Prior to joining us at Holmes Veterinary Hospital in February of 2018, Dr. Culbertson practiced small animal medicine and surgery for 9 years in Greenville, SC.
A former board of directors member for the Animal Emergency Clinic of Greenville, Dr. Culbertson is a member of the American Veterinary Medical Association, the South Carolina Association of Veterinarians, the Greater Greenville Veterinary Medical Association, the Veterinary Hospital Managers Association and the Veterinary Information Network. Additionally, she serves on the board of directors for the Laurens County Humane Society.
Dr. Culbertson and her husband Marty Jacks live in Gray Court with their two children. Dr. Culbertson's passion is spay-neuter.
Our Staff
---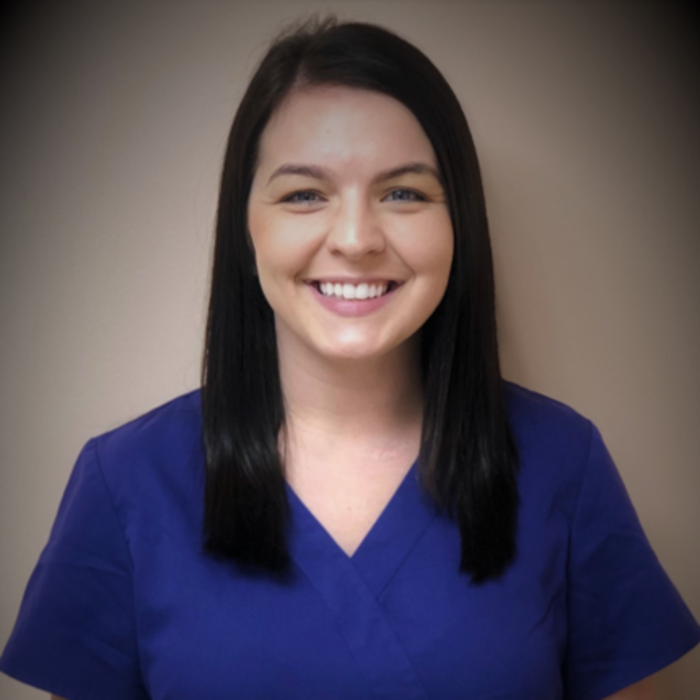 Amanda Addy
Veterinary Assistant
Amanda has been with Holmes since December 2019. She graduated from the Veterinary Technology program at Piedmont Technical College in May of 2019 and even completed one of her preceptorships with us. She has experience in other small animal clinics and in the emergency animal field. Amanda grew up on her family's beef cattle farm and enjoys spending all the time she can helping with the animals. She has a lab named Drake, a Chesapeake named Lo, two schnauzers named LuLu and Oakley and two cats named Cat and Queen. Amanda enjoys spending her free time with her family and friends and camping on the weekends.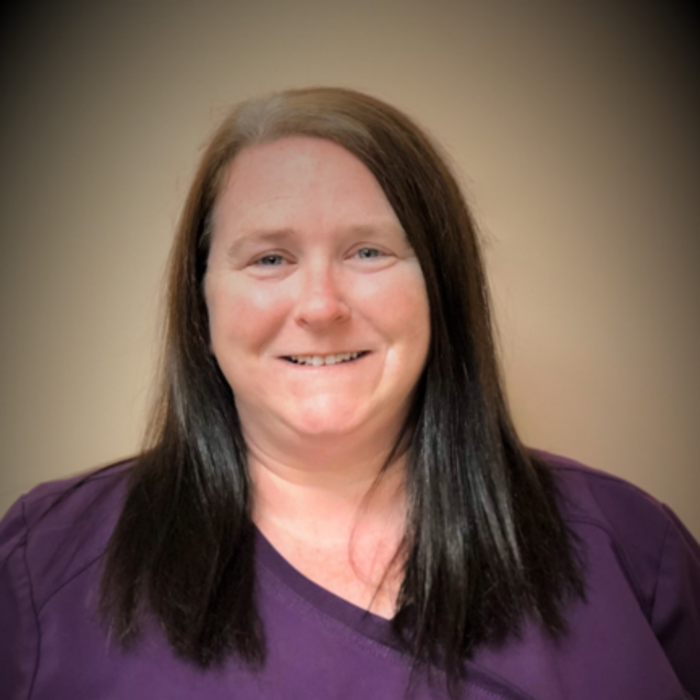 Mandy Godfrey
Client Care Representative / Rescue Coordinator
Mandy joined Holmes Vet in 2018. She has a Boxer named Biscuit who is 11 years old but still acts like he is two. Her two English Bulldogs named, Jut and Juliet, are both four years old and love to be lazy and crazy. In Mandy's free time she watches tv and spends time with her teenage son, Austin. She loves to do crafts in her free time, as well as paint. Mandy also enjoys pet sitting and caring for every animal she can.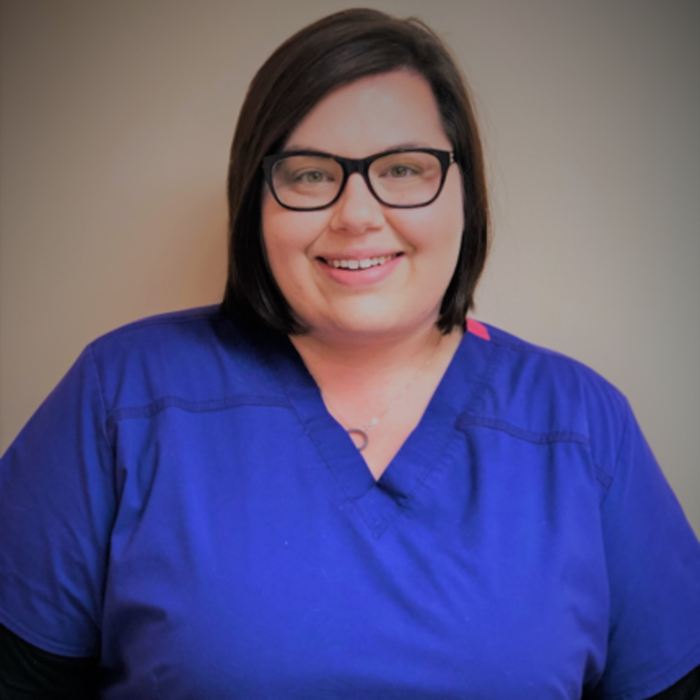 Malarie Osborne
Veterinary Assistant / Inventory Manager
Malarie has been working at Holmes since August of 2019. She has a total of 15 years in the veterinary field and has gained a lot of knowledge not only as a technician but also in management. Even at home, Malarie's world is full of animals. She has three dogs, Rooster (a Boston Terrier), Trigger (is a pit-bull mix) and Prissy (a Chihuahua/Boston Terrier mix). Malarie also has a cat named Squeak, a donkey named Forrest, many goats and a lot of chickens. In Malarie's free time she enjoys spending time with her family and friends, hunting, fishing, traveling and taking on many different crafts.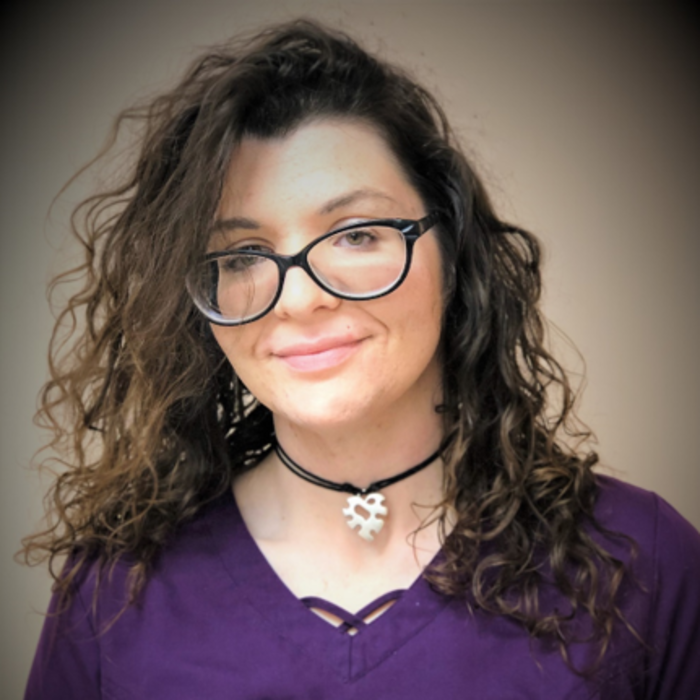 Carys Dalton
Veterinary Assistant
Carys joined the Holmes Vet team in March 2019 and has a lot of knowledge in the animal field. Carys has a Golden Doodle named Cal, three cats named Nyna, Avi and Mac and two sugar gliders named Jameson and Dewer. Carys grew up on her family's sheep, beef and poultry farm in Wales, UK and enjoys digging holes in her free time. Carys also enjoys gaming, rugby, sleeping and cleaning in her free time.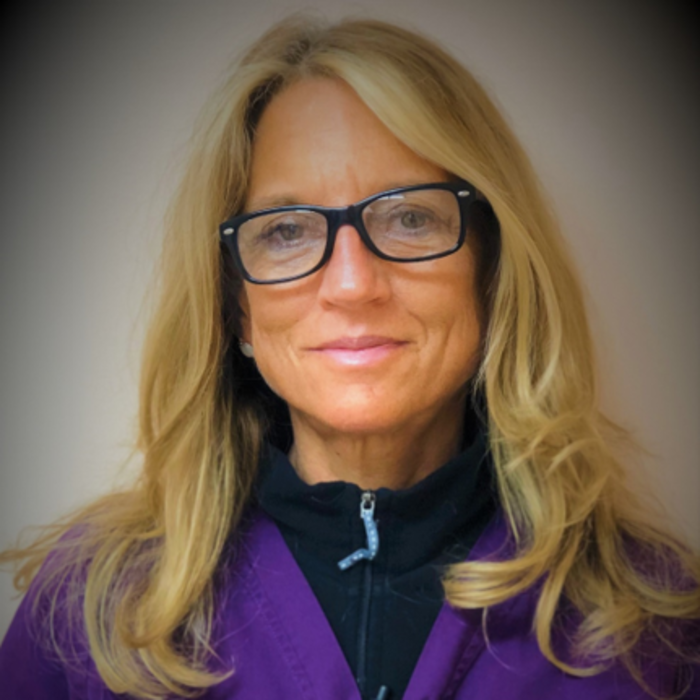 Laura Haupfear
Veterinary Assistant
Laura has been working with Holmes Veterinary Hospital for 30 years. She has a sweet Border Collie name Gunner and in their free time they both love to run trails together. She is an elite athlete who enjoys cycling and anything involving the outdoors.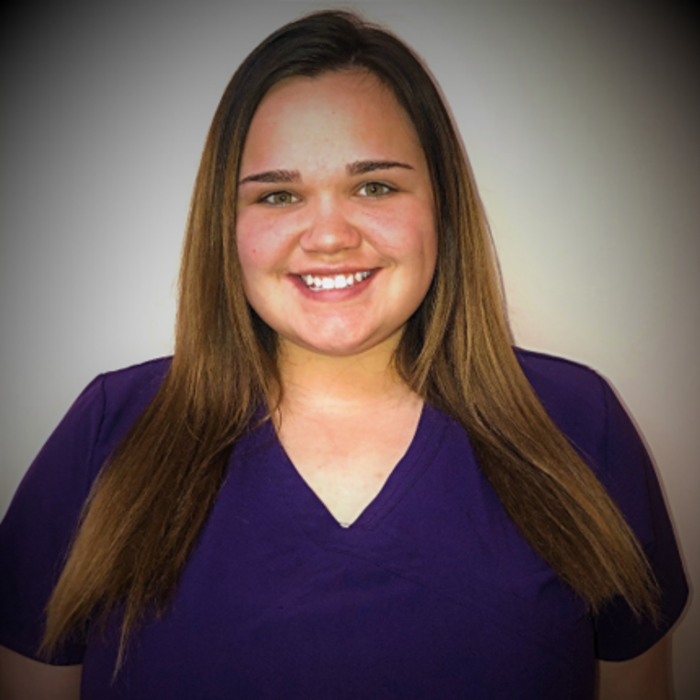 Makayla Childs
Veterinary Assistant
Makayla has been a veterinary assistant at Holmes since July of 2019 and has a little over four years of animal care experience. She is a graduate from Laurens High School and has been working in the field ever since. Makayla has one adorable puppy named Boomer and one bearded dragon named Spikes. Outside of work, Makayla enjoys fishing and any other outside activity and truly enjoys being involved with all types of animals. Makayla stated "I couldn't be thankful enough for Holmes Vet Hospital allowing me to work for them."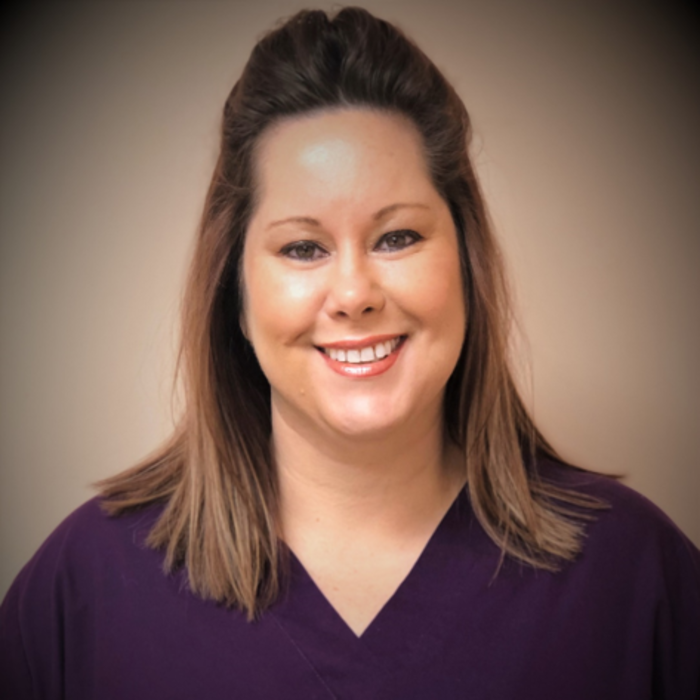 Gina Crane
Client Care Representative
Gina has been with Holmes Veterinary Hospital for 25 years. She has veterinary assistant experience and is now serving in office administration and customer care. Gina has a sweet cat named Precious and a beagle mix named Copper. In her free time, she loves to travel and camp with her family and friends, saving animals and cuddling with her fur babies. Gina is happily married to her high school sweetheart and they have two handsome sons. Gina grew up on a farm with cows, horses, chickens, and goats. She graduated from Laurens High school and attended Greenville Technical College for two years but always knew she wanted to save animals.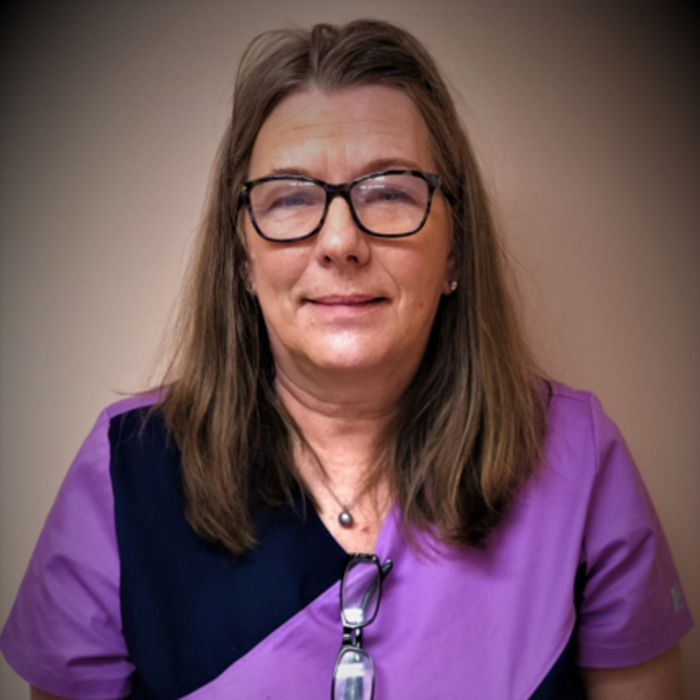 Debbie Culbertson
Client Care Representative
Debbie has been working in the veterinary field and at Holmes Vet for 30 years. Debbie has three German Shepherds, Toby, Kenzie, and Eric. She also has Stella and a sweet schnauzer named Drayton. In her free time, she enjoys spending time with her grandchildren, shopping, music, movies, and reading. She is an avid reader of theology texts.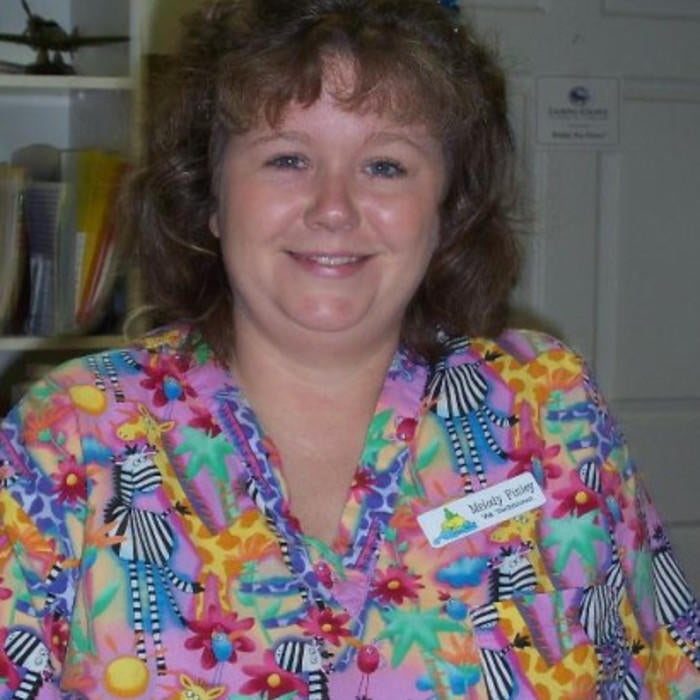 Melody S. Finley
Technician
Melody S. Finley has worked at Holmes Veterinary Hospital since 1996. She enjoys horseback riding and camping with her family. She is married and has two daughters. Melody lives on a small farm with a mixed terrier named Clayton and a Pekingese named Shu-Shu as well as horses, goats, a potbellied pig named Muffett, rabbits, chickens, cats and tarantulas.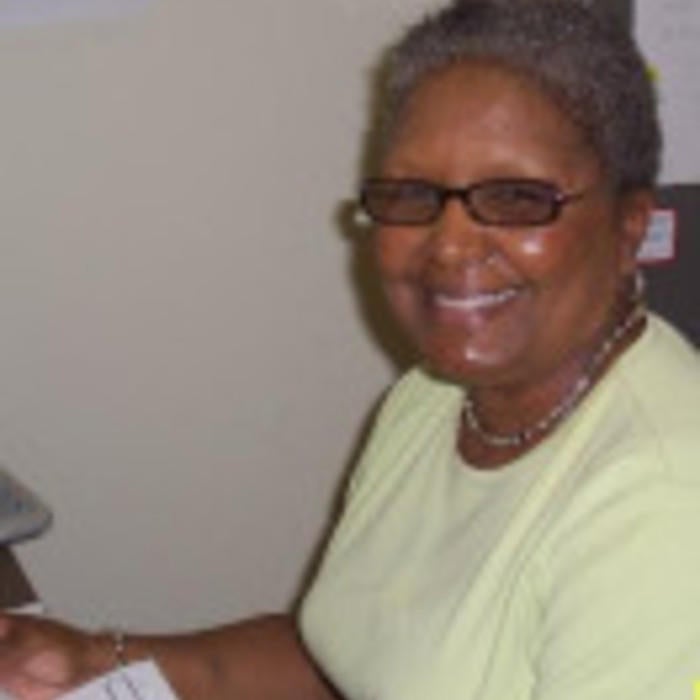 Madge Byrd
Bookkeeper
Bookkeeper Madge Byrd has worked at Holmes Veterinary Hospital since 1991. Madge is married and has two grown daughters and is very active in her Church and her community. She enjoys spending time with her five grandchildren.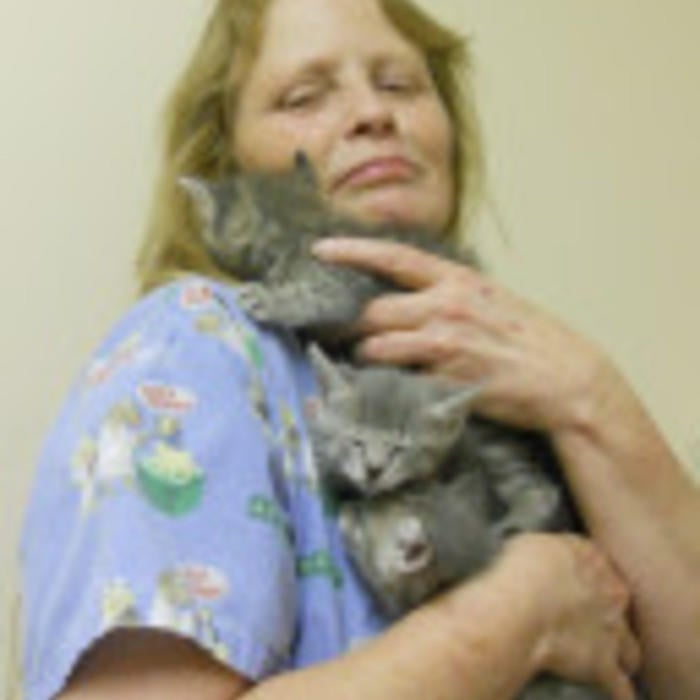 Debra Bunch Kennel Manager
Kennel manager Debra Bunch has several dogs including mixed breeds, shihtzus and Deuce, a once-waywardBoarding kennel attendant Debra Bunch cuddles kittens but now reformed Siberian huskey. Debra is the hardy soul who makes it in to care for hospitalized and boarding pets during snow and ice storms or whatever else mother nature throws our way.